Current-Users archive
---
[Date Prev][Date Next][Thread Prev][Thread Next][Date Index][Thread Index][Old Index]
parallels on leopard on macbook pro freeze on current kernel during boot
---
Subject: parallels on leopard on macbook pro freeze on current kernel during boot
From: George Michaelson <ggm%pobox.com@localhost>
Date: Wed, 6 Feb 2008 11:57:23 +1000
---
I have the 5584 build of parallels on Leopard (OSX 10.5) on a macbook pro and netbsd current hangs during boot.
Also, a bootcamp install freezes when run under parallels, but in a different place, on a 4.0 kernel.
I've included some screengrabs. the current boot is on the INSTALL kernel, the bootcamp is on a GENERIC kernel.
I have tried a couple of things, including boot -c to disable drivers. No change.


any suggestions?

-George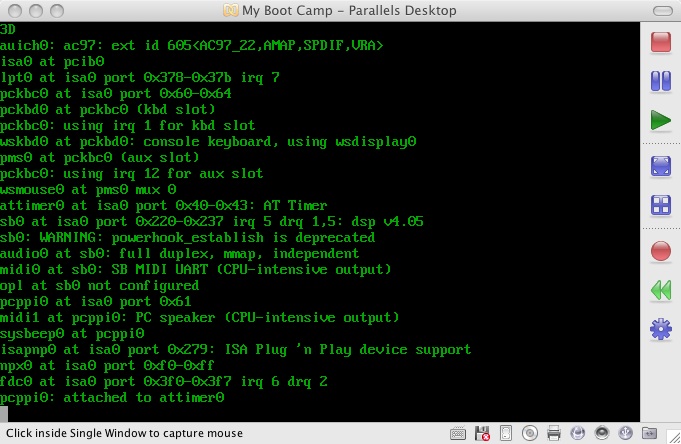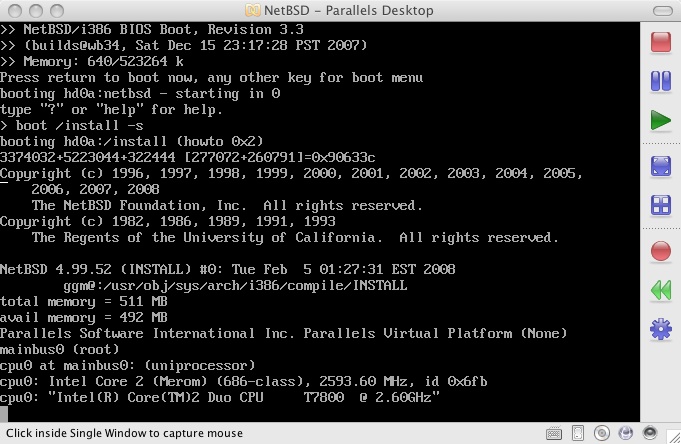 ---
---
Home | Main Index | Thread Index | Old Index