Port-amd64 archive
---
[Date Prev][Date Next][Thread Prev][Thread Next][Date Index][Thread Index][Old Index]
PCI-E U320 controller for amd64 5.1
---
---
I am looking for a PCI-E controller to run my new HP 1/8 LTO-4 Autoloader on a HP DL380/G5 Server.
The DL380/G5 has 2 half height PCI-E slots and 3 full height PCI-E slots.
I see on the supported hardware list the Adaptec AHA-29320LP is supported. This is a PCI-X based card.
I have found a AHA-29320LPE which appears to be a PCI-E version of the card.
Does anyone have any experience with this PCI-E version of this card on NetBSD/amd64 V5.1?
Thank you
Scott…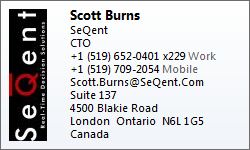 BEGIN:VCARD
VERSION:2.1
X-MS-SIGNATURE:YES
N;LANGUAGE=en-us:Burns;Scott
FN:Scott Burns
ORG:SeQent
TITLE:CTO
TEL;WORK;VOICE:+1 (519) 652-0401 x229
TEL;CELL;VOICE:+1 (519) 709-2054
ADR;WORK;PREF;ENCODING=QUOTED-PRINTABLE:;;Suite 137=0D=0A=
4500 Blakie Road;London;Ontario;N6L 1G5;Canada
LABEL;WORK;PREF;ENCODING=QUOTED-PRINTABLE:Suite 137=0D=0A=
4500 Blakie Road=0D=0A=
London  Ontario  N6L 1G5=0D=0A=
Canada
X-MS-OL-DEFAULT-POSTAL-ADDRESS:2
URL;WORK:www.SeQent.Com
EMAIL;PREF;INTERNET:Scott.Burns%SeQent.Com@localhost
X-MS-CARDPICTURE;TYPE=JPEG;ENCODING=BASE64:
 /9j/4AAQSkZJRgABAQEAYABgAAD/2wBDAAcFBQYFBAcGBQYIBwcIChELCgkJChUPEAwRGBUa
 GRgVGBcbHichGx0lHRcYIi4iJSgpKywrGiAvMy8qMicqKyr/2wBDAQcICAoJChQLCxQqHBgc
 KioqKioqKioqKioqKioqKioqKioqKioqKioqKioqKioqKioqKioqKioqKioqKioqKir/wAAR
 CACEACYDASIAAhEBAxEB/8QAHwAAAQUBAQEBAQEAAAAAAAAAAAECAwQFBgcICQoL/8QAtRAA
 AgEDAwIEAwUFBAQAAAF9AQIDAAQRBRIhMUEGE1FhByJxFDKBkaEII0KxwRVS0fAkM2JyggkK
 FhcYGRolJicoKSo0NTY3ODk6Q0RFRkdISUpTVFVWV1hZWmNkZWZnaGlqc3R1dnd4eXqDhIWG
 h4iJipKTlJWWl5iZmqKjpKWmp6ipqrKztLW2t7i5usLDxMXGx8jJytLT1NXW19jZ2uHi4+Tl
 5ufo6erx8vP09fb3+Pn6/8QAHwEAAwEBAQEBAQEBAQAAAAAAAAECAwQFBgcICQoL/8QAtREA
 AgECBAQDBAcFBAQAAQJ3AAECAxEEBSExBhJBUQdhcRMiMoEIFEKRobHBCSMzUvAVYnLRChYk
 NOEl8RcYGRomJygpKjU2Nzg5OkNERUZHSElKU1RVVldYWVpjZGVmZ2hpanN0dXZ3eHl6goOE
 hYaHiImKkpOUlZaXmJmaoqOkpaanqKmqsrO0tba3uLm6wsPExcbHyMnK0tPU1dbX2Nna4uPk
 5ebn6Onq8vP09fb3+Pn6/9oADAMBAAIRAxEAPwD5uJOTya95+HfwD03WLnSdQ1rxHp99ZXlq
 J5NOtpis43x7guQeqkjP0NeCnqa0tF1zUvDurRanol3JZXkQYJNHjcoYEHr7EigD2K7/AGdI
 xfTiDx1oUMXmNsjklyyDPAPPUV5r4+8GHwNr0Wmf2xZ6t5tss/n2bZRcsy7Tz1+XP4iuannk
 ubiSedi8srF3Y9WJOSaioAcpPqaK077Rn022s55bqzuPtce8JBcAtFwpw/ocMOPr6UUAZR6m
 us+HHgmXx942tdCSf7NHIrSTz7dxjjUZJA7k8AfWuTPU16N8Cru+tfi7pZ0022+VZUmW5kMa
 NFsJYbgDg4GRx1AoA6+58BfAmxuJLW68f6oZoWKuYgHXI64KwEH8Ca81+IGm+ENL8QQweAdW
 udW01rZXknuRhll3MCv3E4wFPTv1r07VP2ZL4ajOdH8T6Q1mXJh+0yMsgXPAOARkevf2rzLx
 z4Juvh74it9N1C6stReSBLnNszNGVLMNpPB/gPTsetAD/GFvdwaboEtzZ21sklinl/ZhjeNi
 Hcw2ryQVJILDJIzkEAqr4nt7S1OniwiiRGtwwkW2nj80EA7v3rNnnPK4FFAHNHqaKD1NdX8N
 /Br+PPHVloQnMEMu6S4mAyUjUZbHueg9yKAOUqWIRmVBOzLGWG5lXcQO5AyMn2yK9r8Z+H/h
 d/wgum6p4Ytr220+LxCNNvtSBaSaaNYmZ2RWbGDlcHA6dOx4/wCKvgSy8C+MbaCwuZbnRdQg
 S8tJiQXETHBXPAJGOD6EUAZnipJkstIgaa7eyWAtbfaNPiteCE5/du+4ldhJbBxtPQiioPFO
 o6ddwWEGl6jqF6lohhzeEbdoC7SgAG3uuDk4RTkZ2qUAcyeprtfhR4yg8C/EKy1i/VnsirwX
 IQZYRuMFgO+Dg474riyCCcik5oA+np/h74E1L4bpoun/ABA0+HRRrTar5zyx70jMWzyeWGGH
 qR/wGvKvjT4w0nxT4psrTw0S+k6NZpY20pB/e7erDPOOgHrjPevNsH0NSxeWJFMqs0YYbgpw
 SO+Dg4NAHQ+JbG3tLHR5NO024szNaK0rSwlTK+1SzAmVwQScjCpwy8ciipPFUV6NO0RrtbpI
 mtR5Iub6Ob5dqYwFVSnylOGycbecCigCp4gg3X0KQINzKAAo68mpfK0/SIlFyonuGGSMZx+f
 SrF8V/4SO0L9NvH15xWLrO/+1phLnOePpjiuKlecYwb0tc+sxvLhqlXERinLmsrq6Wl72Ne3
 NhrCtELby2UZ3KoGPxH9aqan5GnJFaQwhmRxI5ccN7H1FULK+nt4WggGDKwyw6/StHXovOv7
 aIFfNdQvPA5OBVKLjUSvoYVMRCvgJVOVc6sm7JaNvReem4mvrZG005rO6spJGgBkW3tHiKfK
 vDlvvNu3jI4woOfmwCtv4iWup2lvpFnfXX2iG1je2g3Wogf93tUtjcdykbNrcZweAc5K6z5o
 wtfuVa+ie3lVtq9VOcHJqdb3T9UgVb8iOZRjcOM/j/jXOtyaQViqEeVRvt1PVeaVHWnUcU1P
 dPVHRhtJ00+dExnkH3QT/wDWxWJd3Ul3cvNIeWPT0FQ9t2DT443nlSONSzuwVVHUk9BVQpqL
 u3dmOIxsq0FTjFRitbLv3fc1NY0S30yy06eDVLW+a9gErxwsC1ucD5XwTg5JGDg/KeOlFavj
 SeOSy0FUsp7Ty7BEYS24jDsEQFlIdtwJBOcL16UVocByB6mvQfgr4VsPF/xQsbDVoxLZQxvc
 zRE8ShBwp9iSMj0zXnx6mui8E+Lb3wR4wsdf09VkktmIeJzhZUYYZT6ZBPPY4NAHr3jXx/a+
 JvhHpeuN4esI9NsPFXkQ6YAVjkhSBmCvtxydxzjjpwe/K/G/QNH0XxhpGtaJZpbWGt2MV+bI
 KFVGJ+YADgAjHHrmu4l+JHwV1PwyLW+0PUIYf7QOqPpiRna1yU2nBD7dpHbIHsOleTfEj4gz
 +PvGK6utqlpaWsawWVswDiONSSNwxgkkkkYx25AoAxddu7W+uYrmx0iw02OYPIIrKaSTALkA
 PvdtpG3oMcEHHIoq74tktpbPSpra/s7meWDdNHaWMFsISVUkHylGfmLD5uflzjBGSgDlz1NS
 SRSRNtkRlOAcMMHBGR+ldb8KtMstZ+K2gWOqIj2st2C8b/dfaCwUjuCQBjvmu38ZeGtb+JH7
 Rt7pDaY1nGlysMkscJXbax8CZj3JToe+VHpQB5lpng/xJrNi17pGgalfWqkgz21o8icdeQMV
 lCB/tYt5P3T79jeZ8uw5xz6Yr6G+I3xrv/A3iqDwr8P4rODTdEVIJVMQcSuBzH7AdCRzu3c1
 zX7SumWlv410rVILYWtzqunLPdRAYPmAkZPvjA/4DQBx/wAREmto9HsJtX0vVIrS3McMmnMr
 lVAUDzCGb5sAcDjjjkmiuJFFAFmyu7jTr+C9sZngubeQSxSocFGUggj6Gveb34/+Mj8O/taL
 p0d5IfI+0pbtvX5T84Bbbu/DHtRRQB5j8Mbgr8XdDluYorxpL7Di6QSBic/Mc/xAnIPqAar/
 ABC8V6n408aXuo6y6eZE/wBmijiUhI41YgKoJPuevUmiigDlgo96KKKAP//Z

X-MS-OL-DESIGN;CHARSET=utf-8:<card 
xmlns="http://schemas.microsoft.com/office/outlook/12/electronicbusinesscards&quot; 
ver="1.0" layout="left" bgcolor="ffffff"><img xmlns="" align="tleft" area="25" 
use="cardpicture"/><fld xmlns="" prop="name" align="left" dir="ltr" style="b" 
color="000000" size="10"/><fld xmlns="" prop="org" align="left" dir="ltr" 
color="000000" size="8"/><fld xmlns="" prop="title" align="left" dir="ltr" 
color="000000" size="8"/><fld xmlns="" prop="telwork" align="left" dir="ltr" 
color="000000" size="8"><label align="right" 
color="626262">Work</label></fld><fld xmlns="" prop="telcell" align="left" 
dir="ltr" color="000000" size="8"><label align="right" 
color="626262">Mobile</label></fld><fld xmlns="" prop="email" align="left" 
dir="ltr" color="000000" size="8"/><fld xmlns="" prop="addrwork" align="left" 
dir="ltr" color="000000" size="8"/><fld xmlns="" prop="webwork" align="left" 
dir="ltr" color="000000" size="8"/><fld xmlns="" prop="blank" size="8"/><fld 
xmlns="" prop="blank" size="8"/><fld xmlns="" prop="blank" size="8"/><fld 
xmlns="" prop="blank" size="8"/><fld xmlns="" prop="blank" size="8"/><fld 
xmlns="" prop="blank" size="8"/><fld xmlns="" prop="blank" size="8"/><fld 
xmlns="" prop="blank" size="8"/></card>
REV:20120316T010734Z
END:VCARD

---
---
Home | Main Index | Thread Index | Old Index